Mentor Marsh, Ohio
Author: Hal Terry, Great Lakes Commission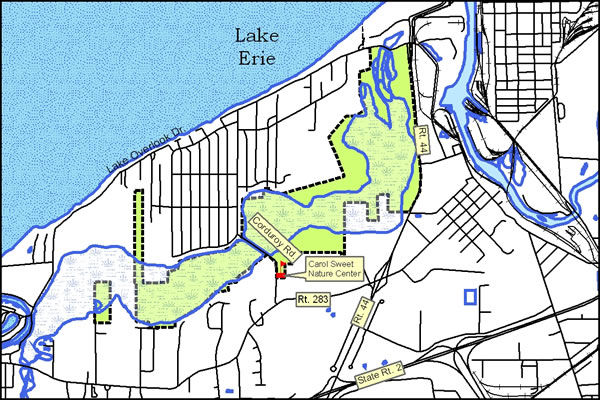 Background
Mentor Marsh is an 800-plus acre wetland located in the city of Mentor, Ohio. For many years, it was home to a diverse community of wetland plants and wildlife. Beginning in 1960s, the marsh was degraded by waste dumping and runoff from a nearby salt production facility. This disturbance led to a sharp decline in native plant and wildlife populations and beginning in the 1970's, the establishment of salt-tolerant invasive Phragmites. In addition to the ecological impacts caused by Phragmites, years of accumulation of dead stalks created a significant fire risk to nearby homes. Since the 1980s, there have been 12 major fires at this site, including a 2013 fire started by arsonists which burned 10 acres and required 120 firefighters to tame the blaze. 
Following the last major fire, managers had to rebuild the marsh's boardwalk, which was lost in the fire. When assessing the needs for rebuilding, managers sought to expand the boardwalk. To accomplish this expansion, Phragmites were removed from the surrounding area. Once Phragmites were removed from this area, native plant life was able to return to the land. After observing this, the Museum of Natural History began to create a plan to eliminate Phragmites and restore native wildlife.
Dead Phragmites stalks are highly flammable and pose a risk to nearby communities and structures. This image is from a 2013 fire which was started by arson and burned 10 acres of the marsh. Image credit: The Plain Dealer
Partnerships and Administration
The Mentor Marsh is managed by the Cleveland Museum of Natural History, who is collaborating with the Lake County Soil and Water Conservation district. Other organizations have also provided funding to this restoration project, such as Sustain Our Great Lakes and the Ohio Department of Natural Resources. As for the work force, contractors and even volunteers have aided these restoration efforts. Thanks to these efforts, by 2017, more than 19,000 plants have been placed into this marsh.
Management Objectives
The Cleveland Museum of Natural History strives to restore the Mentor Marsh's biodiversity after years of occupation by Phragmites. The first step of this process is to eliminate Phragmites from this area. By removing this invasive species, native plant life will have an opportunity to return to this area, since they are no longer out-competed. To aid this return, native plant seeds will be placed throughout the marsh. Once native plant life has returned, the Museum of Natural History museum hopes that animals that use native plants as habitats will also return.
After a selective removal of non-native Phragmites along Wymbolwood Beach, evening primrose is the dominant species on this property. Image courtesy of WBA.
Methods
To combat the Phragmites, several methods were used, such as herbicides and cutting. For herbicide use, the Cleveland Museum of Natural history utilized a glyphosate-based herbicide commercially known as AquaNeat. This herbicide, when used in low concentrations, posed no threat to sensitive wildlife in these wetlands. The museum used AquaNeat in 2% concentrations to ensure no damage occurred. Herbicide application was completed through aerial and ground-based sprays. For on the ground spraying, vehicles such as a Marsh Master and Argo were used, in addition to backpack spray units for sensitive vegetation. Once herbicide application was completed, amphibious marsh buggies were used to cut down the invasive species. Following the elimination of phragmites, native plants were then seeded, from both helicopters and on foot. Aerial seeding consisted of 200 million seeds covered about 40 acres of the marsh.
Policy and Regulations
To use herbicide, the Museum of Natural History had to utilize an EPA approved aquatic herbicide. In addition to this, aerial application was used to reduce the concentration of AquaNeat. People were also notified of applications via social media, public messages, mail, and signs at the Mentor Marsh. 
Communication and Outreach
While restoration was underway, the Museum of Natural History reached out to the public. For example, local news posted several articles detailing the process. In addition to this, the Museum of Natural History posted videos to YouTube, which detailed the history of Mentor Marsh. Lastly, with herbicide application, the Cleveland Museum of Natural History informed the public about the herbicide and when the application would occur. 
The Cleveland Museum of Natural History continues to promote events for Mentor Marsh. With a Facebook page that has over 4000 likes, support for the Mentor Marsh continues to aid its wildlife. The city of Mentor has distributed several videos to the public detailing the history and management of this marsh. Since these restoration initiatives have been placed, there has been an increase in the biodiversity of native wildlife. For example, bird diversity has seen a resurgence. To aid awareness of this, several programs are monitoring the presence of rare species, such as the bald eagle. This has encouraged visits to the Marsh for bird watching, increasing engagement with the public within this marsh.
Mentor Marsh's History and Restoration (Cleveland Museum of Natural History)
Monitoring
Restoration work is still underway this marsh. To determine if these efforts are successful at restoring biodiversity, monitoring includes the observation of new species including amphibians and birds.