Participant Training
The PAMF Team has been hard at work developing new and improved training opportunities for PAMF participants that work for each person's individual learning style. Sign up for one of the options below to learn all you need to know about participating in PAMF!
Live Virtual Training Session
Sign up for our live virtual training session on Tuesday, May 25 from 10:00 a.m. – 12:00 p.m. Eastern to learn about how you can participate in PAMF!
Why attend this virtual training?
If you are interested in contributing to and benefiting from the collective learning process, attend a PAMF training or contact the PAMF Team at [email protected] to get started. This training session will give a comprehensive background on the program and provide you with the tools you need to enroll and monitor your management units as part of PAMF.
This training will not show you how to manage Phragmites or go over specific management implementation techniques. Rather, we will spend our time walking through the PAMF program so that you are able to collect data appropriately, receive effective and efficient management guidance, and contribute to the collect learning of Phragmites managers across the basin. This 2-hour training will provide lots of opportunity for questions and engagement with PAMF staff.

Self-Guided PAMF Participant Training Course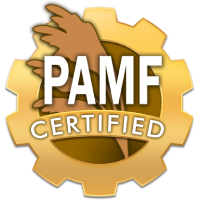 Whether you are looking for a refresher or this is your first year participating, you can now enroll in our self-guided PAMF Participant Training course! This training takes approximately 2.5 hours to complete and covers all aspects of PAMF participation – from the pitfalls of monitoring to submitting reports. It is free to sign up and can be taken at any time and at any pace. Instructions for how to register can be found here.
Why enroll in this training course?
This PAMF training course is a great, comprehensive resource for any new, existing, or interested PAMF participant! The course allows you to learn about PAMF in your own time and provides all of the resources you need to be successful. It can also be a great resource for training seasonal employees or volunteers to help enroll or monitor your Phragmites sites. Completing this course will earn you a certificate that states you are a certified PAMFer and have successfully been trained in how to collect and submit high quality data.
Additional Resources
Have you already completed a PAMF training but could use some helpful reference materials? The 6 modules below can provide just that!  Reviewing the materials below will ensure you are ready to collect high quality data – and it should take less than 2 hours! Read the Training Module Syllabus here to learn more about what the training entails.
Join PAMF
Anyone managing non-native Phragmites in the Great Lakes basin can participate in PAMF. Click the button below to get started!